A Clash of the Titans: Office 365 vs. Google Suite
by Emily Goh-Marchese on July 13, 2017
Much like the Clash of the Titans, an epic battle has unfolded among productivity suite providers. For those unfamiliar with the term, productivity suite providers help individuals and organizations deliver information – whether in the form of a document, presentation, worksheet, database, charts, electronic music or digital video. Common examples include Microsoft Office, OpenOffice, Corel WordPerfect Office, Apple's iWork, and Lotus Symphony.
Much like the Olympians and Titans, Microsoft and Google are at the center of this epic battle. Microsoft's Office 365 or O365 solution provides both desktop and cloud deployments while Google Suite or G Suite offers only cloud-driven apps and integrations.
At stake - control of an extremely lucrative and growing market of both business users and consumers.
While each has their own advantages, concluding which is best for your organization requires careful analysis. Four elements should be considered including:
• Cost
• Features and functionality
• Security
• Ease of use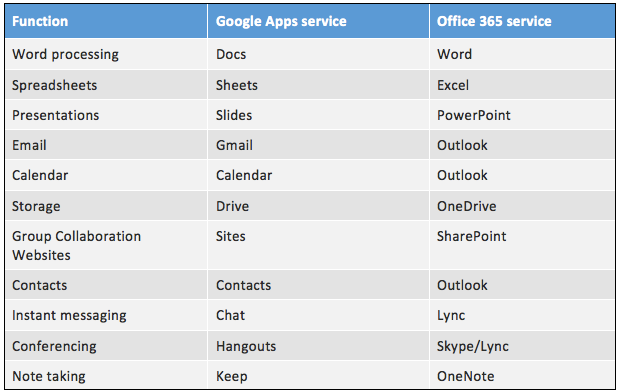 Table 1: Google and Microsoft Productivity Tools. Retrieved from http://www.techproresearch.com/article/google-apps-vs-office-365-a-side-by-side-cost-analysis/
1. Cost
Both G Suite and Office 365 offer 3 pricing tiers for businesses.

*G Suite for Enterprise Plan requires businesses to contact them for more information.
While the pricing is similar, Office 365's Business plan saves your organization approximately $1.75/user. However, subscribers of G Suite Business plan who have 5 or more users have the convenience of unlimited storage. And, if you are a start-up and/or sharing a small number of documents with only a handful of colleagues, G-Suite's Google Docs, Sheets, and Slides are available to you for free. Google's free consumer apps, however, don't provide the following services:
• Custom business email @yourcompany
• 24/7 phone and email support
• 99.9% guaranteed uptime on business email, interoperability with Microsoft Outlook
• Additional Security options like two-step authentication and SSO
• Administrative controls for user accounts

2. Features and Functionality
The Titans had Cronus while the Olympians had Zeus. Likewise, both Office 365 and G Suite have their merits.
a. Accessibility
While both are cloud-based applications, Office 365 provides full versions of Office 2016 including Outlook, Word, Excel, PowerPoint and Access which can be downloaded to your desktop should offline access become necessary. Why is this important? In the event that the cloud server is down or you find yourself in the unfortunate circumstance where you don't have internet access, your ability to work on your documents will not be jeopardized. With G Suite, its applications must be accessed through the internet. Shortcuts can be created on your desktop, however clicking on the icon launches the application via web browser.
b. Functionality
G Suite's Google Docs, Sheets and Slides offer minimalist-looking templates. Given the easier-to-use nature of the templates, the learning curve in mastering their functionality is considered to be more gradual.
Microsoft apps, on the other hand, have more advanced functionality than G Suite. Advanced number crunching, 'Smart Art' or slide deck animations are far more robust in Microsoft's Excel, Word and PowerPoint applications, but require additional knowledge and training to successfully leverage.
Note that it is possible to open Microsoft Office documents using G Suite and save files created with G Suite apps to Microsoft Office format. The only issue to be mindful of is the more advanced Microsoft apps features may corrupt the formatting of your converted document.
c. Storage
Assuming use of the Basic model, G Suite Basic or Office 365 Business Essentials, Office 365 Business Essential provides 20GB more than G Suite. More specifically, with G Suite Basic, you will get 30GB of cloud storage while Office 365 Business Essentials offers 50GB. To put this into perspective, the extra 20GB will allow you to store an additional:
• 370,749 Word documents (assuming each document has an average file size of 50kb),
• 62,910 PDF documents (assuming each pdf document has an average file size of 300kb) and
• 57,190 PowerPoint slides (assuming each PPT file is about 10 slides/330kb).
However, if you have 5 or more users in your G Suite Business subscription, G Suite offers unlimited storage plus archiving, auditing and data retention features.
d. Compatibility
Given that both Office 365 and G Suite are productivity suite providers, it may be important for you to consider the third-party integration market which exists for each provider. Both Office 365 and G Suite have online stores, Office Store and Apps Marketplace, respectively, which offer a wide range of applications to enhance their productivity tools. The Office Store offers approximately 1,500+ third-party applications while the Apps Marketplace has roughly 750+ third-party providers. Examples of third-party providers for G Suite's Apps Marketplace include but not limited to Asana, SmartSheet, AODocs, etc. while Microsoft's Office Store integrates with DocuSign, One Drive, Microsoft Dynamics, and many others.

3. Security
The digital world's adoption of the cloud is progressing at the speed of lightning. Concerns with regards to cloud security, privacy and operation aspects are seen to be increasing and subsiding simultaneously as these cloud-based organizations increase their emphasis on data protection. With this, both G Suite and Office 365 have been striving to beef up their security measures.
Both G Suite and Office 365 offer multi-factor authentication features and admin audit logs to track activities and verify users accessing information. Additionally, G Suite and Office 365 are compliant with ISO 27001, European Union (EU) Model Clauses, the Health Insurance Portability and Accountability Act Business Associate Agreement (HIPAA BAA), FISC, FedRAMP amongst many others. For more details, please visit Microsoft Office compliance certifications for Office 365 and Google Cloud Security and Compliance Whitepaper.
Between the two titans, G Suite is more challenged in this aspect because it does not offer "as many security management features for IT administrators from within the management console." Nevertheless, Google is continuously improving its efforts to ensure it covers individual organization needs.

4. Ease of Use
For ease of use, there is no definite answer. To be fair to both titans, each has its own advantages, complexities and learning curves. Due to the common use of Microsoft Office apps, one may argue that Office 365 is much more familiar to use. After all, Microsoft does hold approximately 95% of the enterprise productivity suite software market, according to research firm Gartner. On the other hand, G Suite's learning curve is less steep due to its simpler productivity tools. For example, the lesser menu options on Google Docs vs. Microsoft Word's makes Google Docs more readily usable. The trade-off, however, is the complexity of functionality – which one may or may not ever leverage.
4 Points and 1,000+ Words Later
Despite the merits of both, one titan is showing more growth in both market share and popularity, and this titan is Microsoft Office 365. Office 365 is deployed in more than 34.8% organizations while Google Suite is deployed in approximately 25% of organizations. Despite Google's efforts to woo enterprises to its G Suite productivity apps, they are still considered an "underdog" in comparison to Microsoft Office. Why, you ask? The answer is simple. Joe Mariano, Gartner's Senior Research Analyst, notes that one of Google's biggest challenges in achieving broader enterprise adoption lies in the competitive advantage of Microsoft's Word, Excel, PowerPoint, Outlook, and other Microsoft Office apps. Mariano further states that "enterprises have been ingrained in the Microsoft stack for essentially the beginning of time" and that [enterprises] will "have problems shifting away from that, because they have a lot of investments, either in customization or how they're using the tools."
And, whether you are a fan of Zeus or of Cronos, concluding on what is best for your organization requires careful analysis of the points above.
Speak with Sales
Our Contract Management Specialists have no less than 10 years' experience helping clients address their contract related challenges. We'd love to help you, too!
Get Started