Feb 25, 2022
Corridor Company is now Contracts 365®
We're excited to announce our new brand identity, a revamped website, and a renewed commitment to CLM category leadership -- and customers who invest in Microsoft Technology.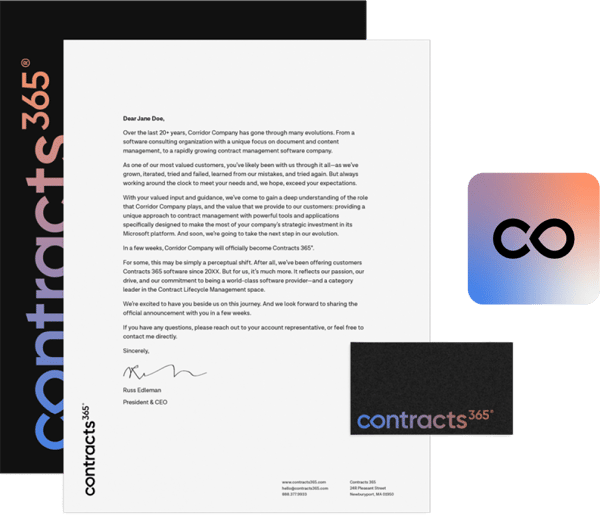 "This is the culmination of a long journey for Corridor Company. Changing our name to Contracts 365 reflects our focus on helping companies unlock efficiencies in the contracting process every day—while leveraging and maximizing their strategic investment in Microsoft 365 products."
Russ Edelman President & CEO
Today, contracts are the currency of business.
From purchases and sales to rentals and investments, licensing, partnering, hiring, investing, and more—virtually every business activity and engagement requires a signed contract to be in place. It's how you make money, make investments, and make a difference.
As contracts proliferate, managing them has become a complex task. Templates, reviews and approvals, ongoing governance and enforcement, annual updates and revisions—all spread across business units, offices, remote work locations, and geographies. Having a robust Contract Lifecycle Management solution is no longer a luxury, it's a strategic business imperative.
Contracts 365 is the leading contract lifecycle management solution for businesses that run on Microsoft 365. With an intuitive user interface and elegant architecture, Contracts 365 is easy to integrate and effortless to use.
We take a customer-first approach to product design, implementation, ongoing support—and everything we do. Leveraging our customers' strategic investment in Microsoft, so they can maintain contract data in their own cloud environments for complete privacy and security. Offering an adaptable interface that automatically customizes to meet each user's needs. And configuring workflows to fit the way your business actually does business.
All while providing real-time visibility of contracts throughout your organization, with collaboration tools, robust reporting, and powerful business intelligence built in.
Discover the power of contracts every day, with Contracts 365.
The logo
Simple, powerful, elegant, our new logo subtly entwines the "c" and the "o" to create an infinity symbol that represents the cyclical nature of business agreements, while the superscript 365 suggests the power everyday efficiency.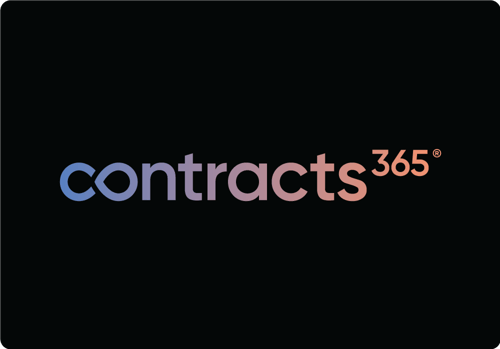 The palette
Our brand palette is inspired by the sunrise and the opportunities it brings. Bold, bright, and distinctive, the gradient suggests the spectrum of what is possible with each and every new agreement that is reached.