Powerful Contract Management Software for Real Estate Management and Investment Firms
Contracts 365 for Real Estate Management is the leading contract management software uniquely built for real estate management and real estate investment firms looking to accelerate digital transformation across what is often a decentralized business model. This real estate specific software leverages the full breadth and depth of Contracts 365 coupled with new data, processing, and integration features specifically focused on real estate management and investment firms. It has been shaped by real-world feedback from Contracts 365 Property Management customers.
With our Real Estate Contract Management Software, companies can easily manage a comprehensive collection of contracts to support Construction Services, Leasing, Corporate Agreements, Service Agreements, General Contracting Agreements, and of course Property specific contracts. As necessary, this contract list can be expanded (or contracted) based upon your organization's particular preferences.
In addition to the core contract management features offered in Contracts 365, our software for real estate management offers the following industry-specific advantages: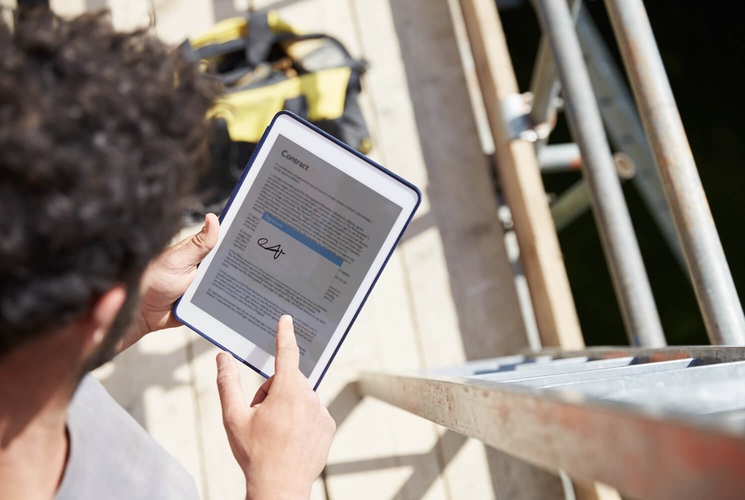 Corporate & Property Specific Contract Support
Contracts 365 for Real Estate Management allows for contracts to be managed at the Corporate level as well as at the Property level. Based upon the nature of the contract, it will often have different characteristics that influence how it is created, negotiated, stored, approved, renewed and enforced via compliance requirements.


A Property-Specific Data Model
The two common "Pillars" of information typically consist of the "Contract Record" and the "Counterparty Record". This includes contract documents, obligations, email communications, contract tasks and other related information. All of this information typically centers or pivots around both the contract record and the counterparty. With the Contracts 365 for Real Estate Management, Contracts 365 is extended with the introduction of the Property Pillar. The Property Pillar will contain a rich set of information regarding the Property which can be used to more effectively manage key aspects of the Property's contracts. Contracts and counterparties along with all of the subordinate data should be viewable within the context of a Property. This allows for select and secured users to easily find Properties and see all of the related information.


Contract Risk Analytics
Contracts 365 for Real Estate Management introduces a standard set of risk analysis tools to ensure that the appropriate level of information and visibility is available for managing key risk factors such as upcoming expirations, exception-based clauses/language, obligations and other information which is associated at the Counterparty, Contract or Property Level.
Property Acquisition And Sales Support
With Properties serving as the key asset for most Real Estate Companies, a streamlined approach is needed to prepare for the acquisition and sale of the Property. With regard to the impact on contracts, there is a need to easily load up the contracts related to the Property to be acquired and likewise, there is a need to easily compile all contracts for an existing portfolio Property for the buyer. In both scenarios, the formality associated with performing due diligence reviews is important and a process for supporting these activities is of equal importance.


Integration With Property Management Software
Contracts 365 for Real Estate Management is designed to integrate with leading property management software solutions including Yardi, MRI, Real Page, and others.
Get in Touch Today
Discover the effortless way to manage and close more contracts.
Real Estate Contract Management Software
Contracts 365 for Real Estate is real estate contract management software designed to address the unique challenges of managing contracts in the real estate investment and management markets. Contracts 365 customers can leave cumbersome manual processes behind in favor of a streamlined, digital experience. Real Estate Management companies with a decentralized contract management model can empower property managers with a self-service contract portal. They can request contracts, upload agreements for review, search for and access contracts based on their role-based permissions, and view status updates on contracts under review. Contract managers at corporate headquarters can monitor, track, analyze, and manage contract activity at the property level and run comparisons across the entire investment portfolio.
Companies that buy and sell properties on a regular basis will appreciate Contracts 365's ability to report the contractual, financial, and risk analysis of an individual or group of related properties being considered for sale. Contracts 365 is designed to integrate with popular, specialized property management software packages, promoting higher levels of visibility and operational efficiencies.
Cutting-Edge Contract Management For Real Estate Management and Investment Companies
Contracts 365 contract management software for real estate is more seamless and simplified than ever. Users can easily manage a comprehensive collection of contracts and immediately know the status of any contract in the system. The user experience is designed to provide a slightly different, fine-tuned experience that varies from user type and their priorities. All user experiences utilize an easy-to-use, intuitive interface and simple navigation. With our real estate contract management software, you can embark on a new path toward optimized contract management. Discover the effortless way to manage your real estate contracts and close more contracts today with Contracts 365.