An Overview of the Best Real Estate Contract Management Software
The various types of companies serving the Real Estate marketplace is extensive and while all of them in one capacity or another use contracts, there is a heightened need for Property Management companies to have a comprehensive and well-managed contracting process. Broadly, Property Management companies usually concentrate on either Residential and Commercial properties and at times, the Property Managers will also serve as investor in addition to managing the properties.
How to Identify the Best Contract Management Software for Real Estate Management Companies
In the context of managing contracts, it can be observed that there are three different levels of functionality/capability that introduce substantial efficiencies for both Residential and Commercial Property Management. These levels are depicted in the diagram below with the understanding that a strong contract management foundation must first be established with Core capabilities. Once these are established, additional Real Estate specific capabilities will increase efficiencies even further. Each level is explored in greater detail below the diagram.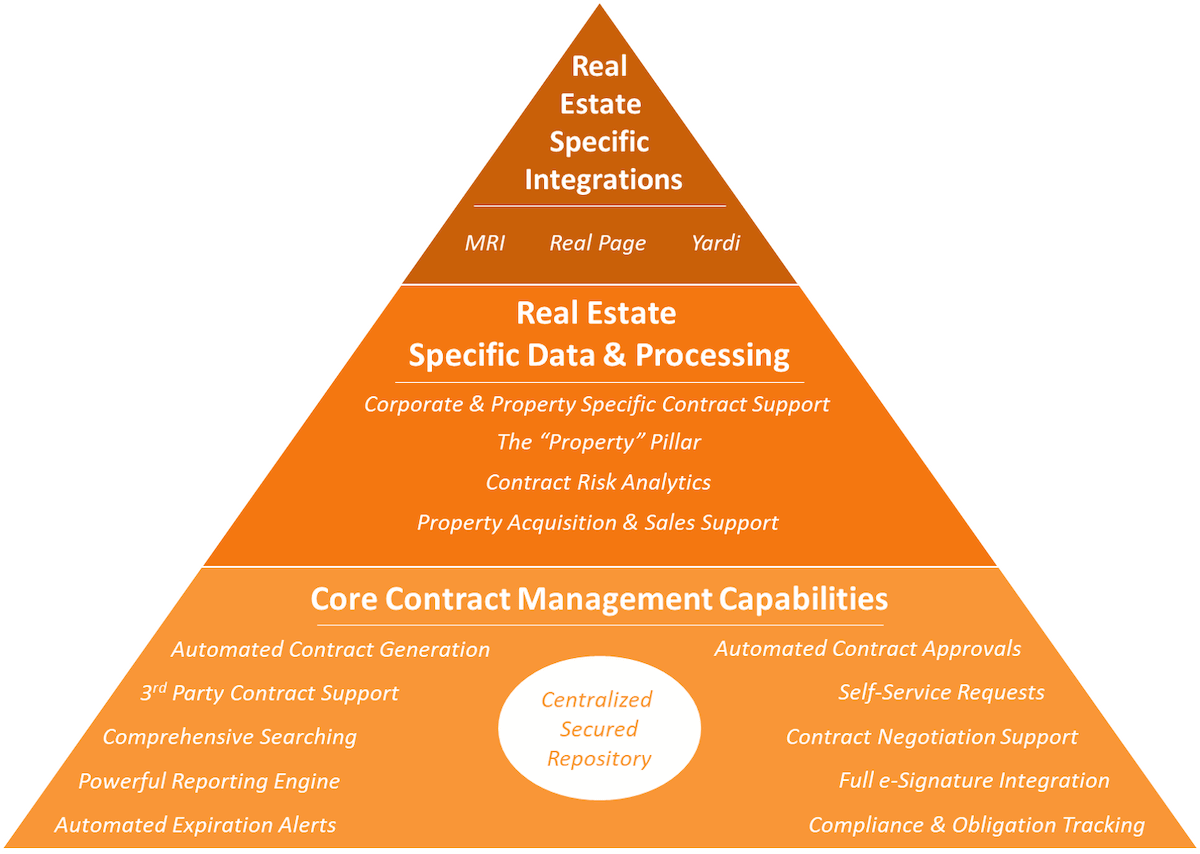 Level 1: Core Contract Management Capabilities to Establish a Contract Management Process
At the first level, "Core", there are a collection of fundamental capabilities that must be employed in order for the contract process to be properly established. Staring with a centralized and secured repository for Corporate and Property specific contracts, there is an underlying need to have one consolidated location in which all draft and/or executed contracts can be securely stored in a trusted capacity. Users should be able to securely search for and find contracts and related information within seconds.
Beyond the central repository, there are a collection of other important capabilities such as Global Search, Reporting, automated contract generation, negotiation e-signature support and more which are considered fundamental "table stakes" for real estate contract management software. These Core fundamentals allow Property Management companies to streamline the process of creating new contracts (on their own paper or via 3rd party), driving contract approvals through the appropriate types of approval processes and allowing for the appropriate reporting and compliance measures which ensure that the rights steps are being taken to mitigate contract-related risks.
Level 2: Real Estate Specific Data & Processing to Increase the Value Proposition in Contract Management
As we move up the pyramid specific functionality for Property Management companies is introduced which increases the value proposition in managing contracts for Corporate and Operational/Property functions. It is important to note that the second section of the pyramid (Specific Data & Processing) as well as the top section (Specific Integrations) can only function if specific Core capabilities have been established and are in use. At a bare minimum, the Centralized, Secured Repository must exist with the ability to support a rich metadata construct. The practicality of having other Core Capabilities such as reporting, and obligation tracking serve as foundational elements for the second and top sections.
In exploring the second section titled "Specific Data & Processing", there are four important capabilities that allow for the system to achieve "great" status as compared to "good" and it is also worthy of noting that good can be materially better than the current state of a non-existing contract management software solution. The four specific Data and Processing capabilities for Real Estate include the following:
Corporate & Property Specific Contract Support

Be it Commercial or Residential, there is a need to manage contracts which are specific to Properties as well as those that are specific to key Corporate functions; typically, Procurement and Operations. Based upon the nature of the contract, it will often have different characteristics that influence how it is created, negotiated, stored, approved, renewed and enforced via compliance requirements.

The "Property" Pillar

The two common "Pillars" of information typically consist of the "Contract Record" and the "Counterparty Record". This includes contract documents, obligations, email communications, contract tasks and other related information. All of this information typically centers or pivots around both the contract record and the counterparty. In the world of Real estate, contracts and counterparties along with all of the subordinate data should be viewable within the context of a Property. This allows for select and secured users to easily find Properties and see all of the related information. Additionally, workflow, charting, security, reporting and management of key Property information can be easily maintained through an enriched "Property Dashboard". And if there is a need to "Pivot" to a specific Contract Record or Counterparty, this capability should be available as well.

Contract Risk Management

Most contract management software systems offer some type of risk analysis tools/dashboards to ensure that the appropriate level of information and visibility is available for managing key risk factors such as upcoming expirations, exception-based clauses/language, obligations and other information which is associated at the Counterparty, Contract or Property Level. Dashboards can be linked to related data views which allows for users to easily drill down into content of interest or at risk. If risks do arise, automated notifications can be introduced with escalations to designated managers to ensure that risks materialize.

Property Acquisition & Sales Support

With Properties serving as the key asset for most Property Management companies, a streamlined approach is needed to prepare for the acquisition and sale of the Property. With regard to the impact on contracts, there is a need to easily load up the contracts related to the Property to be acquired and likewise, there is a need to easily compile all contracts for an existing portfolio Property for the buyer. In both scenarios, the formality associated with performing due diligence reviews is important and a process for supporting these activities is of equal importance. This would include a simplified approach for easily uploading new Property contracts and related information along with an optimized workflow process for the review of the newly uploaded contracts. When selling a property, your team should be able to log Due Diligence requests and associate the list of contracts/documents with the Due Diligence request. The list of contracts/documents can then be exported in batch and saved with a "contract inventory manifest" which provides a complete picture for all relevant information associated with the request.
Level 3: Integrations Between Real Estate Software and Contract Management Software
At the top level, the prospect of integrating Property Management Software products and platforms into your contract management software is introduced. The leading Real Estate Software (RES) products offer a wealth of capabilities ranging from full accounting functions to space management to tenant screening and more. The most common forms of integration between contract management software and these platforms consist of the following:
RES To Contract Management Software Data Synchronization

This integration mode allows for the RES system to serve as the "System Of Record" for data such as Properties, Owners, Legal Entities and other information that is centrally managed. When the RES system functions in this capacity, the contract management software can be configured to regularly import new and changed records which negate the need for manual entry into the contract management sofware system. This information is often needed for contract generation, searching and classification.

Contract Management Software Data Posting To RES Systems

Typically, there is a need to post key Contract Data (Contract Value, Contract Reference Link, Contract Name, Property, Owner, Counterparty and key financial data from the contract management software system to the RES System. This often happens when a contact has been executed which serves as the triggering event for such data postings. However, the contract (or supporting document) may be initiated partially or fully at other stages of contract progression.

Contract Management Software Contract Access Within RES Systems

With Contacts and related information properly established within The contract management software system as the Contracts "System of Record", there is often a need to have one-click access to those contracts from within the RES Systems. For example, when on a Property page within the RES system, a simple link should be available which takes the user directly into the Contract Management Software Property Dashboard within The contract management software system and on the contract management software Property Dashboard page, a listing of all contracts is available for the Property. Likewise, if on a Vendor page within the RES system, a similar experience should be available whereby a link takes the user to the Contract Management Vendor (Counterparty) Dashboard which displays all of the Vendor's contracts.
It is important to note that the methods of integration for each RES system are dependent upon a number of variables (API Support, Data Export/Import, Batch/Interactive, etc.). They are also materially impacted by each Property Manager's preferences and protocol for integration. This variability results in Contracts 365's real estate contract management software providing a RES Integration Framework which allows for these integrations to be successfully delivered. They do require careful coordination and extensive validation processes to ensure that information is effectively transferred between the contract management software and the RES System(s). While the list of Real Estate Software Companies below is not a complete list, these vendors represent the most prominent in the marketplace:
There are a number of Real Estate Associations which service the respective communities that they serve. The partial list of these associations along with a more exclusive conference, are excellent entry points into the broader Real Estate communities.
Where does one go from this point?
A valid and important question that can at times seems overwhelming. Consistent with broad, mission-critical automation projects, the most common approach for going forward is to deconstruct your contracting requirements into discrete areas with levels of prioritization being established across the requirements. These should be vetted with your contract professionals, executives, operations team members, and other users that will be impacted by and benefit from contract management software. Read Contract 365's white paper on our Real Estate Contract Management Software that is uniquely built for Real Estate Companies and provides insights to make a more informed decision.
Contracts 365 is the leading contract management software for Microsoft customers. With usability, functionality, and security at the forefront of development, Contracts 365 addresses all aspects of the contract lifecycle through a modern, intuitive interface specific to your users. Please don't hesitate to reach out to contact us or to request a demo.