10 Essential Contract Management Software Tools for 2023
The world of contract management software is a constantly evolving mix of technology, trends, and best practices. Unfortunately, it's not always clear what features are most valuable, so we've created a list of 10 essential contract management software features and tools for 2023.
1.
AI-Powered Contract Management
The prospect of AI-powered contract management has been an aspiration for organizations across all industries. In the past, the challenges with data accuracy and speed in processing have prevented organizations from implementing AI-powered products. However, advances in machine learning are bringing a new generation of AI-powered features.
AI-powered contract management can save time and reduce risk. AI can scan and identify key terms and clauses in legacy and third-party contracts, such as renewal dates, termination clauses, and pricing. This allows businesses to quickly identify issues and make informed decisions. AI can also help identify potential risks and suggest alternative language or clauses.
For example, Contracts 365 and Microsoft Applied AI services have partnered to bring AI-powered capabilities to contract management. Learn more about our initiatives to power our contract management software with Microsoft AI in our recent webinar.

2. Self-Service Contract Management Portal for Business Users
While its benefits are most often associated with contract managers and legal professionals, contract management software has the potential to make every employee in the company operate faster and with more accuracy and efficiency. Contracts 365 for example, provides a dedicated self-service portal for employees across the company to leverage for contract-related tasks.
Many self-service use cases can be fully automated by a contract management software solution. Requested contracts, for example, can be automatically assembled from a template and sent back to the requester in a matter of minutes or seconds. Contract approvals, another time-consuming task, are ideal candidates for self-service workflow automation since the requestor can trigger and track the process.
True to the term 'self-service', employees can be granted security rights to search for existing contracts or relationships, allowing them to answer questions independently without distracting the legal team from focusing on potentially higher-value work.
Enabling users to upload 3rd party agreements such as vendor agreements is a popular request from our customers. Modern contract management software solutions can automatically notify the contact with proper authority and subject matter expertise, that they need to review the contract. This is another popular example of business-level self-service promoting efficiency and productivity for business users and the legal team supporting them.
3. Automated Document Assembly for Contract Management
Some contract management software, such as our own Contracts 365, has capabilities known as automated document assembly, contract authoring, and/or contract creation. This feature enables the software to automatically create a completely formatted contract once requested. A template must first be set up in the contract management solution which usually involves establishing business rules and conditionality that alter the final contract based on the data submitted in the request form.
For example, imagine an internal business requester needs a nondisclosure agreement. He or she declares on the request form that they expect company financial information will be disclosed to the counterparty noted in the agreement. In such a case, an established business rule can be set to insert a clause specific to this pre-defined occurrence, into the contract as it is created by the system.
This may have once been described as a one-off request, requiring a lot of human effort and attention. Contract management software with contract creation capabilities can be continually expanded to support an endless number of these conditional rules. Ultimately, your legal team can stay focused on their most important work while business folks receive the contract support needed for them to perform their roles to the best of their abilities.
4. Contract Obligation Management
A common problem we hear from prospects considering investing in a contract management software solution is that once a contract has been executed, it gets filed away and the team moves on to the next contract. A major issue is that the terms and obligations buried in the language of the document are forgotten in large part because there is no easy, manual way to memorialize them and automatically assign them to responsible parties to ensure compliance.
Modern contract management software provides users the opportunity to carve out business terms and obligations, and automatically track and report on compliance. There are many examples where these features benefit our customers. Specific to vendor and supplier contracts, it is often valuable to track vendor performance against SLA's or purchase history to achieve rebates or volume discounts. For customer agreements, tracking commitments made during the sales cycle can help increase customer satisfaction levels and help avoid situations leading up to a breach of contract. And, last but not least, companies that are required to adhere to government regulations and are subject to periodic audits appreciate the ability not only to document and track obligations, but also to produce audit reports at a moment's notice.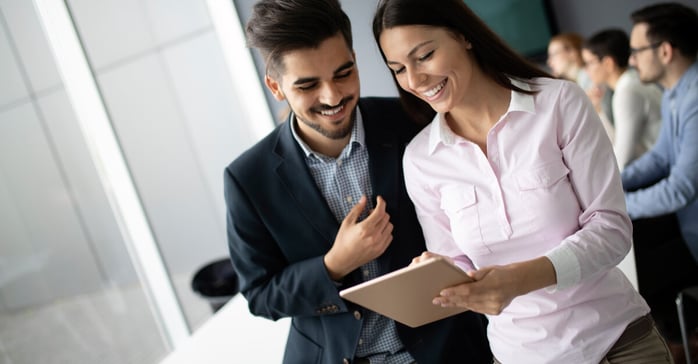 5. Connected Systems
For many years now, we have found that contract management software systems that are integrated with other corporate applications deliver much more value to the company than a standalone, siloed application.
For example, Contracts 365 produces a packaged Microsoft Dynamics CRM contract management integration. For those not familiar, a CRM or Customer Relationship Management application is often the primary tool used by sales reps to manage their deals. Our real-time integration allows sales reps to request and receive a contract back from legal in minutes or seconds without ever leaving Microsoft Dynamics. The time it takes for the sales rep to receive the contract and get it into the hands of their customer is drastically reduced and, so is the time it takes to close the deal and recognize the revenue from the sale. Enabling sales reps to access all the contract management-related data, documents, and tools while remaining in Dynamics, improves their productivity and allows more time for selling and therefore more sales. Realizing these gains by connecting sales and legal teams is significant for most companies.
There are plenty more examples to share, here are just a few:
Integrating with a financial application can speed the process of invoicing and receiving payments.
Integrating with a supply chain management application can ensure raw materials are ordered when purchase contracts are executed.
Integrating with a project management application can reduce the time required for new customer onboarding.
Integrating with vertical software solutions can streamline operations. For example, Contracts 365's Contract Management Software for Real Estate is

designed to integrate with leading property management software including Yardi, MRI, Real Page, and others.
In summary, connected systems provide value through increased revenue, savings, productivity, focus, and informed decision-making.
6. Workflow Automation for Contract Management
Workflow automation capabilities exist in many enterprise applications, and their presence in contract management software is extremely valuable. We've observed that Contract Management and Legal Teams are consistently understaffed. The heightened need to continually complete more quality work in less time and with the same or less headcount is why workflow automation is so valuable for contract managers.
Workflow automation is a feature that can be applied to a wide range of use cases, but it shines when used for contract approvals, which tend to be tedious and time-consuming. Automated contract approvals, by comparison, can utilize automated reminders to keep approvers on track and your process on time. Escalations can also be built into the process to address approvers that fall way behind and jeopardize your project goals.
Workflow automation is an important tool to help you focus on your most important work.
7. Secure and Centralized Repository
Having a secure and centralized platform is important when managing sensitive data in contracts. A centralized platform allows for easy control and management of private contracts, enabling you to store, search, and track your contracts from one place. And ensuring that this data is secure, is paramount. Contract management software that is cloud-based and aligned with industry-leading security protocols is essential to consider.
8.
Electronic signature Integration
When integrated with electronic signature platforms, contact management software enables organizations to send, receive, and sign contracts electronically, saving users time and hassle. It is important that contract management software be fully integrated with leading digital signature companies such as DocuSign and Adobe Sign. With Adobe Sign and DocuSign, contract signatories, and end users can sign forms anywhere, on any device. This eliminates the need to log in or download software and ensures compliance and security. In addition, business users can easily view key tracking data to know when recipients receive, view, reassign, sign, and forward the e-signature envelope, to ensure key milestones are being met. Contract management software that natively integrates with electronic signature platforms makes it easier to move your organization to a fully digital and highly automated contracting process.
9. Dashboard Analytics and Custom Reports



Leading contract management software should provide insights and analytics on your contracts, including metrics on performance, risk, and compliance. Often these reports can be customized for at-a-glance intelligence or scheduled delivery. In addition, it is ideal to have software that provides customized dashboard views designed to match business roles for legal teams, contract managers, procurement and sales.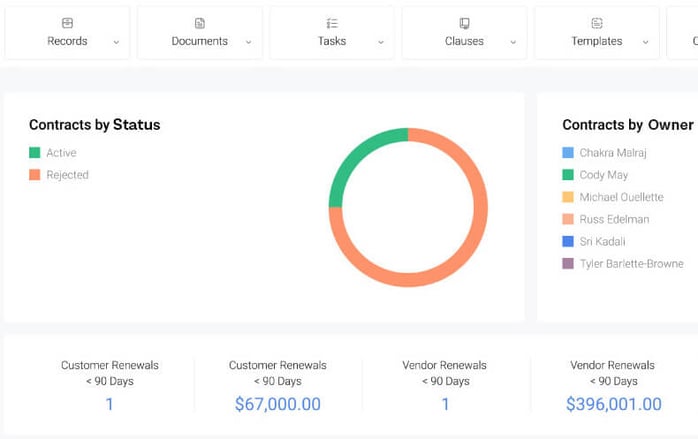 10. Mobile Access
Business users require flexibility in accessing their contracts data whether through mobile, tablet, desktop, at the office, or on the go. By choosing cloud-based contract management software, organizations are ensuring that their data will always be up-to-date and accessible to the business user.
In summary, if your business counts on contracts to function, these ten contract management software features and tools have the capability to add value when implemented as a part of your contract management software solution.
If you'd like to learn more about our Contract Management Software for businesses that run Microsoft 365, please don't hesitate to reach out to us or, even better, request a demo and we can show you how it works in real-time.